Transferring a business as a going concern
To sell a business as a going concern is when a company owner sells a business to a buyer that can continue operating as usual in its current financial state, using existing resources available to the business, such as equipment and premises.
A going concern is a common accountancy term used to address a business that is financially stable as it can fulfil company liabilities as and when they fall due, with no threat of impending liquidation, albeit a history of financial distress.
In the business sale context, a business classed as a going concern is well placed to continue trading without any disruption from legal action or deterioration of health. The business and the associated assets required to maintain the daily running of the company will be transferred to the new owner to enable trading to continue.
When selling a business, or buying a business, reference to the term 'going concern' is common, which makes way for the following questions – what is the going concern concept and is a going concern good or bad?
What is selling a business as a going concern?
When beginning the business sale journey, you will come across business adverts that describe businesses on the market as a going concern - is this a risk for business buyers?
A going concern is a business that has regained stability following a period of financial uncertainty and can now confidently trade without the threat of liquidation for the foreseeable future, typically 12 months. Although the business experienced a period of financial loss that resulted in the health of the business deteriorating, reassurances are in place to mitigate the risk of insolvency and raise enough cash to maintain company operations.
The business may have conducted formal restructuring to streamline the way it operates, eliminate unnecessary expenditure, and maximise efficiency. By taking precautionary measures to retain the value of the business, labelling a business for sale as a going concern will inform potential buyers that the business has regained strength following a turbulent past, and now represents a valuable commercial acquisition opportunity, backed by due diligence checks.
---
Previous sales and acquisitions experience

Sector specialisms and average success rate

Sales value expectations and growth potential
Free

Guide Download
10 Key Questions to Consider Before Appointing an Advisor
Our Essential Checklist to Selling your Business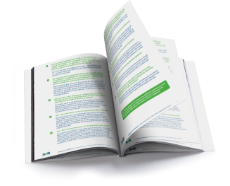 How to calculate a business as a going concern
To determine what constitutes a business as a going concern and conclude if your business is a going concern, you need to understand how to assess a going concern.
-        Does your business have sufficient cash flow to pay bills when they fall due, repay creditors, and cover unexpected costs?
-        Do company assets outweigh company liabilities on your balance sheet, also known as debt to asset ratio
-        Calculate gross profit - are you making a loss after deducting expenses and costs?
After carrying out a health check on your business, supported by your accountant or a licensed insolvency practitioner, you will be able to determine if your business is a going concern or requires additional support in the form of commercial finance or a formal insolvency procedure.
What is a negative going concern?
If your business is a negative going concern, this means that it is predicted to become insolvent and therefore requires urgent insolvency support to avoid company closure. A business that is not a going concern is borderline bankrupt which could result in a poor business credit score, declined finance applications and creditor pressure due to the elevated risk.
What does it mean to buy a business as a going concern?
Buying a business as a going concern can present an affordable opportunity to prospective buyers looking to buy an established business that can continue trading from day one of the business transfer. This can save time, resources and start-up capital as the business can continue to deliver goods and services, without the need for urgent investment or an interim transition period.
To value a business as a going concern, get in touch with a member of the Selling My Business team for a free valuation. Our in-house team of business valuers are highly experienced in company valuations, company valuation methods and can advise you on what affects the value of a business. We have offices across the country supported by business transfer agents with national business sales experience.